So, I'm taking off my tech hat and putting on my social studies teacher's hat. For years, I've been interested in diversity work and for many years was a board member of the
Philadelphia MCRC
. In preparation for Halloween and to keep children from wearing costumes which might offend, we had a lesson by two colleagues who are expert in diversity work and then a discussion on cultural appropriation.
Sometimes it is very clear what is offensive. Sometimes it can be fuzzy. This article discusses and shows some recent controversy,
Popmatters 7/20/14
Perhaps you've seen this I'm a Culture, Not a Costume campaign. The photo on top is one of many posters the campaign has created.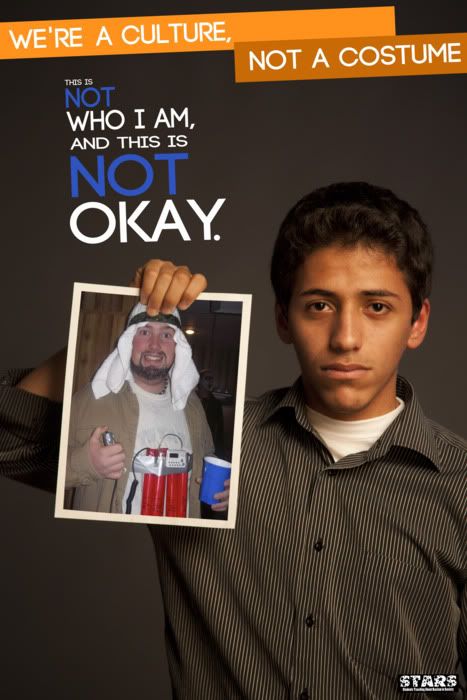 Of course, dominant culture can't see the problem in appropriation, mistaking "same" as fair. Thus, there's been a counter- campaign. See an example below left. At a certain level, I get the point. Yes, I actually do think we can be too sensitive. But there's a lot of offensive ground one has to first cover before we get into "too sensitive" territory.
I have a student who perfectly explained what's offensive about cultural appropriation in a recent post in her class blog. The majority culture doesn't carry the baggage. This young woman wrote, "
People are willing to take everything except our oppression. They'll take the Native American headdress but leave behind the reservations. They'll take the hijabs and leave behind the stares and constant surveillance and suspicions. The thing about them and black face is that they can choose to take it off. They can wipe off the distasteful makeup and still go about with their lives with privilege and respect still intact."